RIM creates "The Bold Team", a cartoon quartet that tells everyone to be Bold
14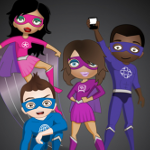 #BeBold
discussing how they plan on being bold in 2012. From those responses, the company has created "The Bold Team", a quartet of cartoon characters with ordinary, everyday "powers". For example, there is
GoGo Girl
. She is the Achiever who saves the day with a brilliant strategy. According to her profile, she is clever, resourceful and a bit random. Next is
Max Stone
, the Adventurer. Max is tough, proud, wild and will face any challenge.
Justin Steele
is the Advocate and is Outgoing and kind. He is willing to stick up for his friends and uses Social Feeds in his spare time. Finally, there is
Trudy Foreal
, the Authentic. Trudy is described as being inquisitive and charming.
The idea here is that RIM users
fit into one of the four categories
. According to RIM, 31% of those who tweeted are Achievers, 27% are Adventurers, 24% are Advocates and 18% ate Authentic. Is this the type of marketing that is going to save the Canadian based manufacturer? Or is this another misguided attempt from RIM with the company focusing on the wrong thing. Will "The Bold Team" help save BlackBerry or is it going to require a fantastic OS in BlackBerry 10?
source:
MobileSyrup