RIM co-CEO: "our high-end products are aging", "a whole next generation" is coming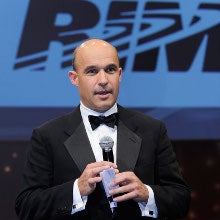 RIM's very ownJim Balsillie, co-CEO of the Canadian phone maker, shed light on theunderlying reason behind the company's lowered sales and profitforecast in a rather unexpected way: "Our higher-end productsare aging … and that's affecting … sell-through,particularly in the United States and Latin America."
RIM cut its earnings forecastdown to between $1.30 and $1.37 per share in comparison to initialprojections of $1.47 to $1.55 per share, all on the background oflower estimate for total shipments which were in recalculated in the range ofbetween 13.5 million to 14.5 million units.
To cement the point about the aged'Berries, Balsillie added:
"As we've said before we feel greatabout the BlackBerry Platform and the PlayBook and how they'redoing. … We just need to have some newer, higher-end products inthe market … This is a transition."
We can't agree more on the last part of the statement - transition is the key word for RIM. And while the previous statement might have sound pessimistic, RIM's chief executive finished on an optimistic notepromising a new generation of BlackBerries next week:
"We are straight in the middle of thewhole tablet mobile computing space. And we absolutely have awhole next generation of smartphones, so strategically we feelfantastic, but operationally this stuff is pushed out so you havethis transition. … We'll have a very exciting BlackBerry Worldnext week. You'll see."
We've heard whispers about the BlackBerry Dakota, Apollo and Torch 2, whilejust weeks ago promos for the Bold Touch 9900 (Dakota) and Touch 9860 (Monaco) leaked,so we have plenty of reasons to be excited. Check back around nextweek when BlackBerry World kicks off – we're sure to see more ofthose new 'Berries.
source: RIM via All Things D