RIM books the HTC Sense creators YOU i Labs for work on BlackBerry OS
3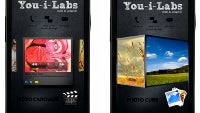 RIM is firmly on the prowl for fellow Canadian companies to help it transition into the world of expensive smartphones from the world of, well, expensive smartphones.
After
nabbing the stable QNX for its basic OS needs
and booking Teknision to work on the PlayBook UI, now it is looking to score some creativity from Ontario-based YOU i Labs, the guys
behind the early days of HTC's Sense UI
. The only exclusion from that trend is
TAT (The Astonishing Tribe)
, which RIM acquired for UI development duties as well, who happen to be from Sweden.
YOU i Labs (even the name is inventive) is a user interface design company, which will now help develop the next BlackBerry OS looks, in a "
significant partnership
" with RIM, which has stopped just short of buying YOU i Labs. Have a look at a conference video from the interface designers that reveals their dreams and aspirations, and might hint at what's in store for the future editions of RIM's mobile OS.