RIM and Verizon postpone BlackBerry Aries 8530 to February?
This article contains unofficial information.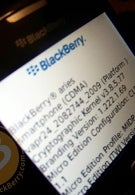 With Apple's new iPhone 3GS and the Palm Pre released,and the new myTouch 3G on the way, now would have been a great time forRIM and Verizon to offer an updated version of the Curve.The BlackBerry Aries 8530 could be Big Red's version of the Curve 8520, also known as the Gemini, and was expected to be launched this September orOctober. A Wall Street analyst now hears that the release datewon't be until February of next year. The Aries 8530 is expected tofeature an optical trackball on a sleeker 'Berry design and yes, it will have Wi-Fi. While we nowhave to wait past the dropping of the ball in Times Square for thatdevice, there still is the BlackBerry Tour to look forward to, expected at Verizon andSprint next month.
RIM BlackBerry Curve 8520 Preliminary Specifications
|
Review
source:
TheStreet.com