RIM and Apple cash in on Nokia´s weakness
This article contains unofficial information.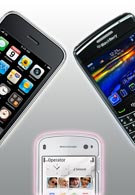 Nokia
has not been doing great in financial terms lately and managed to loose a hefty part of its market share. According to a recent study by MKM Partners, the company that has profited the most so far is
RIM
, because BlackBerry devices have been selling much better than their Nokia manufactured rivals in Q3 2009, which led to record-breaking earnings for RIM generated on a market that, until recently, was totally dominated by the Finnish company.
Another manufacturer that has been gaining ground on the European cell phone market is
Apple
. According to a study by JPMorgan, the sales of the iPhone have more than tripled. As we have already
reported
, Apple´s device is also becoming overwhelmingly popular on one of the most technologically advanced Asian countries, Japan.
The analysts are of the opinion that the major reason behind the forward march of RIM and Apple is the lack of adequate response by Nokia. Moreover, the product portfolio of the Finnish company still lacks proper devices with touch-sensitive screen and this has been the fastest growing sub-sector of the cell phone market globally, a fact that is quite easy to prove with, for an instance, the
record.breaking
sales of devices like the affordable Samsung Star S5230.