RIM CEO Heins says RIM better off with BlackBerry 10 delay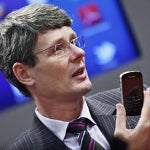 denial isn't just a river in Egypt
. Yesterday we told you how the executive said
that there was nothing wrong with RIM
. Of course, thousands of investors who have taken the stock from $140 to single digits over the last 5 years might think otherwise. And Mr. Heins continued his apparent disconnect with reality by saying that the delay of BlackBerry 10 OS is a good thing for RIM.
The executive based this on the thought that had RIM launched the pair of BlackBerry 10 handsets in the fourth quarter, it would have had to compete with other handsets brought out during the holiday season. According to RIM's top executive,
It's a time when flagship devices are battling with each other
to be seen. "
Carriers really do strong launches in the first quarter
," he said. Talking to Canadian Broadcasting, Heins said that carriers want a viable third option after iOS and Android, and he says there is no reason why BlackBerry can't be this third option. Hmmm. It would seem that a little company named Microsoft might want to have a say in the matter.
device demand
" before the launch of BB10. While
RIM will have nothing new to rollout for the remainder of the year
as it girds its loins toward the release of BlackBerry 10, globally the company is doing much better than in North America. In emerging markets, entry level BlackBerry models remain popular and gives the company the opportunity to update users to BlackBerry 7 devices. Heins believes BlackBerry 7 is just as competitive as the other top platforms in the market.
RIM's CEO talked about RIM's loyal customer base, its 80 million subscribers, and the two new BlackBerry 10 handsets coming out, one with a physical QWERTY keyboard. But the executive did say that RIM has had to concentrate on touchscreen devices with virtual keyboards for the new OS because
growth of handsets with physical QWERTY keyboards has flattened out
. Returning to BlackBerry 10, Heins says that RIM will be using ads to help show the public what the QNX based OS can do. He took a shot at RIM's challenger for the third spot in the OS Wars by calling Windows Phone "
confusing
" because of the different versions of the software.
source:
CNET