Quicker for Android makes tweaking your settings faster. Or does it?
4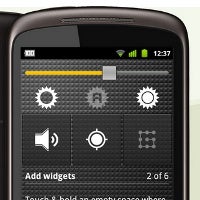 Quicker for Android focuses on one task – bringing you settings from the depths of the Android menu in a simple and visually appealing way. We can imagine this being a pretty important feature as Android might grow exponentially with over 500,000 phones activated each day, but looking for a particular option in the settings menu could be challenging even for the platform veteran.
Luckily, the OS has evolved to include widgets for handling the basic settings like screen brightness, toggling Wi-Fi. Bluetooth and GPS on or off, while the volume controls are easily accessible via the volume rocker on a handset, but there are some features which you have to look for deep in the maze of the scary settings menu. Things like free memory, enabling 3G connectivity and automatic screen rotation are one of the biggest benefits Quicker brings.
Interface and Functionality:
quickly
access system settings including brightness, ringer mode, volume, Bluetooth, Wi-Fi, Portable Wi-Fi hotspot, GPS, Mobile data, screen timeout, airplane mode, auto rotation and screen lock. But the stress here falls on quickly as if you're not in such a rush you can take your time and look for them in the settings menu.
So is Quicker really quick?
Unfortunately, you don't even have a homescreen widget for those settings, so you have to first tap on the application icon, which takes you to Quicker homescreens, this time filled with app-specific widgets. This means that when you're in the app, you have to look for the particular button, which makes the whole process pretty much as lengthy as going into settings and finding the same functionality there.
Actually, as we mentioned, some basic settings like Brightness, Wi-Fi and Bluetooth are easily accessible through a free Android widget, and some custom skins like TouchWiz from Samsung and the Optimus UI by LG offer the functionality built in the dropdown menu. These double with a large part of the Quicker widgets.
Except for that, Quicker also includes indicators for battery status and used memory, along with the flashlight tool using the flash of your phone's camera. We should however warn you that using it for a long time is not recommended.
$1.41 (.99 euro) is not a huge price to pay
, but we actually felt that most of the functions in Quicker were an overkill. If you're not solely after the visuals, you'd be fine sticking to Quick Settings, and if you don't care much about the UI and more advanced features of the app, we see no reason why you'd get such an application at all as Android delivers the basics through its own free widgets.