Quantum working on iPad accessory to solve tablet's imperfections
12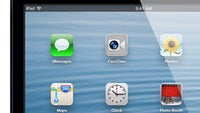 The iPad is an awesome tablet and everyone who owns one would probably agree with that. However, it does have its limitations – limitations that some users are probably bothered by. These include the lack of options for storage expansion, missing ports for USB connectivity, and more. Yet a company called Quantum wants to rectify all this with an accessory that it's currently developing.
As DigiTimes reports, Quantum wants to address all major issues that iPad owners complain about. This "all-in-one" accessory, which is supposed to put an end to these woes, is expected to add storage expansion capability, extend its battery life, boost sound quality, all the while protecting the tablet from nicks and dents. There are no photos or rendering of Quantum's product, yet we're imagining a high-tech iPad case of some kind with built-in battery, speakers, and perhaps a full-sized USB port thrown in there as well.
"Our goal with this product is to turn a good device into a great device," said Quantum CEO Robert Federowicz. "The limitations of the iPad's various iterations are well-documented at this point. We aim to smash through those limitations and make the iPad more powerful and more useful than ever before."
Quantum is currently working on a prototype of its iPad accessory and wants to bring its product to market as soon as possible. Pricing and availability have not been disclosed at this time.