Qualcomm's new line of chips will make smart speakers better, more capable than ever
5
Qualcomm, manufacturer of the popular Snapdragon chips that power billions of devices, is now aiming to dominate another segment of smart products: speakers and displays with voice assistant support. To do that, the company announced today a new family of chips called the
QCD400 Series
Smart Audio SoCs.
The new chips are designed specifically for the needs of smart speakers like the Google Home and Home mini, Amazon's Echo lineup and others. That is why Qualcomm has focused on two main aspects: sound reproduction and voice recognition.
The QCS400 line promises "truly superior audio performance" that should come not only from Qualcomm's own technologies, but support for Dolby Atmos and DTS:X as well. The chips will be capable of supporting up to 32 audio channels.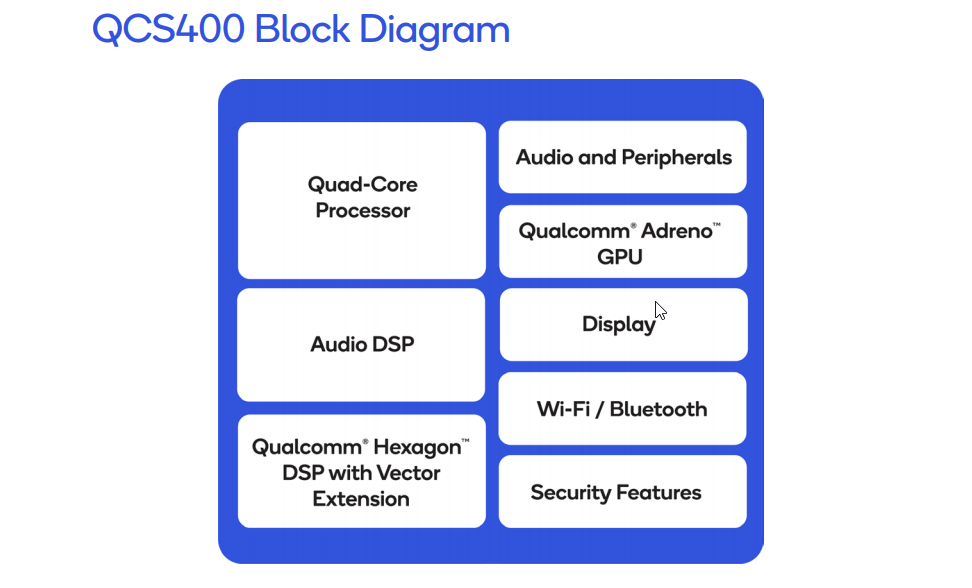 The main elements of the two ''bigger'' QCS400 chips
To make your communication with the voice assistant better, Qualcomm is once again putting AI to use. The AI should help with voice recognition so you can expect fewer misheard words and phrases in the future. The new chips should also allow the device to better separate voices from background noises or music and detect trigger words easier.
Besides those main capabilities, Qualcomm is also looking to improve a couple more things that are also quite important.
The first one is an improvement in power consumption which will come handy for portable Bluetooth speakers and other battery-powered devices. Devices with the new chips are expected to have a significantly longer standby time during which voice wakeup will be available.
And finally, the new chips will ensure that your smart device is always well connected. Whether that is to the internet via Wi-Fi or to your phone through Bluetooth, Qualcomm has made improvements in any aspect of the smart speaker connectivity.
The QCD400 chips are four in total, two of them are for audio only. The least powerful is the dual-core QCS 403, followed by a quad-core QCS404. The two chips that come with video capabilities have the Adreno 306 GPU and support HDMI. Only the highest tier chip, the QCS407 supports 32 channel audio, while the rest top up at 12 channels.
If you're a frequent user of smart speakers these new developments are good news for you. And if not, well, you're probably concerned about the fact that soon these pesky always-listening devices will be able to hear you even better. Like them or not, it seems they're here to stay!