Qualcomm says it will lower its chipset margins on purpose to help drive smartphone sales
3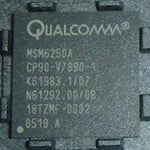 Chipset manufacturer Qualcomm had some good news for its investors at the Morgan Stanley Tech, Media, and Telecom Conference. CFO Bill Keitel told the assembly that Qualcomm has achieved an operating margin of 30% on chipsets. But Keitel then announced that the company would push down prices on its products to lower its operating margins to 22%-24% by the end of the year.
Did management at the chip producer go mad? Did they inhale too much silicon? Nope. As the CFO says, Qualcomm decided to lower prices to help drive smartphone sales. As Keitel said, " "To
help the market come about
, we made the decision to come to market earlier at a lower price than we could have." He adds that operating margins in the mid 20's is what analysts and investors should expect from Qualcomm's chipsets in the next few years. He also notes that 17% of revenue will go to R&D to make sure that the chipmaker stays at the top of the game.
While NVIDIA's Tegra 2 processor beat out Qualcomm to be first to market with a dual-core chip set, Qualcomm offers customers a totally integrated package that includes a CPU, GPU and all of the radios required to make a smartphone. And right now, Qualcomm is focusing on producing a 28 nanometer chip.
There seems to be enough business to keep every clean room humming. Even Samsung couldn't produce enough chips for their own handsets and had to go to NVIDIA for the Samsung Galaxy II. While it might seem that driving down the price of its product might hurt Qualcomm's bottom line, it seems that they have enough business to keep employees busy, and investors and customers happy.
source:
IntoMobile