Qualcomm investors say Broadcom will need to hike its bid to at least $80 to snag the company
It was exactly one week ago today that
Qualcomm announced that it was rejecting Broadcom's unsolicited $70 a share offer
for the company that designs the Snapdragon line of mobile chipsets. The deal was to be a combination of cash and stock with each Qualcomm share to be exchanged for $60 in cash and $10 in Broadcom equity. The total value of the transaction would be approximately $105 billion, which would make it the most valuable acquisition in tech history.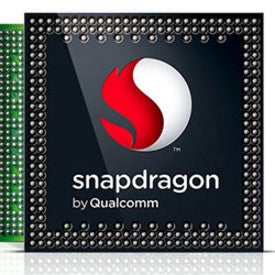 Analysts and money managers say it will take Broadcom as much as $143 billion to end up with Qualcomm
Broadcom was willing to pay the big bucks despite the strong possibility that
Qualcomm's modem chip will be designed out of the 2018 iPhone models
. As we've mentioned more than a number of times, both Apple and Qualcomm are currently embroiled in a number of lawsuits mostly revolving around Qualcomm's decision not to license its standard essential patents using a fair, reasonable and non-discriminatory manner.
While $70 isn't enough moola to persuade Qualcomm's investors to surrender their shares in the tender offer, some say for an additional $10, the deal could get done. When Qualcomm's board turned down the $105 billion offer, they said that the price was low and that Broadcom was trying to steal the company. The latter says that it is committed to the purchase, presumably at $70 a share. And if a planned proxy fight succeeds allowing Broadcom to replace Qualcomm's board with its own slate, Broadcom might be able to get the deal done at its price. However, proxy battles take time and money.
Broadcom CEO Hock Tan was able to complete three other large deals (LSI, Brocade and Broadcom) at an average price just 6.8% above the initial bid price. Applying this to the current $70 offer for Qualcomm would result in a price of $74.76 for the target company, still less than what many analysts believe the company is worth.
"We would be very interested in evaluating an offer that begins with an 8. [The board] should urge Broadcom to come back with a higher bid"-Daniel O'Keefe, fund manager, $3.1 billion Artisan Global Value Fund
Last week, we hinted that this could be an epic Wall Street battle that takes us back to the days of Ivan Boesky and Michael Milken. It really comes down to how badly Broadcom wants Qualcomm. If Broadcom were to add $5 more in cash and another $5 in stock, it could end up picking up Qualcomm for $120 billion. However, money manager Daniel Morgan, a vice president at Synovus Trust Co., says that it might take a price in the range of $85 to $95 to get the deal done. Synovus is a Qualcomm stock holder. At the high end, the acquisition would cost Broadcom $143 billion.
It's fascinating to watch and right now the ball is in Broadcom's court.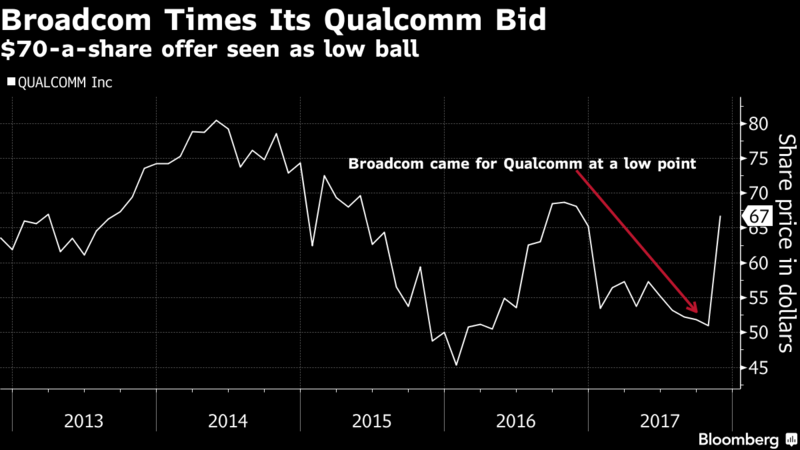 Broadcom's bid comes at a low point in Qualcomm's recent price range
source:
Bloomberg