Qualcomm demonstrates its future display: 5.1-inch Mirasol 577ppi screen
61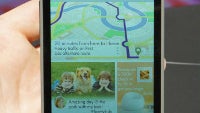 The time of super high-resolution displays has already come with pixel densities of over 440ppi on most high-end smartphones today, but at the quick pace technology advances with soon we might see even sharper screens arrive.
And Qualcomm is now showing what one future technology will look like. The company is showing off its Mirasol front-lit power efficient 5.1-inch 2560 x 1440 pixel screen with a density of the whopping 577dpi.
The Mirasol technology differs a lot from the current crop of LCD/OLED displays. Unlike them it actually reflects light that falls on it in a way that is close to what we see in nature. The Mirasol display however does not have the same vibrant colors as on modern displays. It is colorful and not black and white like most e-ink, so it basically holds a middle ground. It is also nearly 6 times more power efficient.
Being close to the way we see things in nature it does not tire the eyes so much and that's one of its huge benefits, apart from the sharpness.
Bad news is Qualcomm is still a couple of years away from bringing it to mass market. The company however is already showing early prototypes of the screen in a smartwatch and a handset. Take a look at the images below.
source:
Engadget