Qualcomm Quick Charge 3.0 oficially announced: more flexible and faster than Quick Charge 2.0
19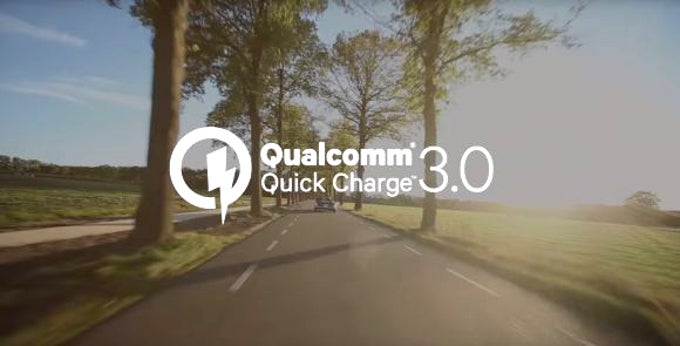 Earlier today, Qualcomm announced some finishing tidbits of info about its Snapdragon 820 chipset and its
LTE/Wi-Fi connectivity features
in particular. Spoiler alert, the chipset will be pretty well-endowed in this aspect, but this is not the only new aspect of the phone that broke cover of recent. The chip maker also announced the debut of Quick Charge 3.0, which will make its first appearance along with the Snapdragon 820 chipset.
Of course, the nitty gritty of Qualcomm's Quick Charge feature is the speedy charging of your device. In this particular key area, Quick Charge 3.0 does not seem like it will disappoint us - the manufacturer says the new rendition of its tech charges up to twice as fast as Quick Charge 1.0 and 27% faster than Quick Charge 2.0. What does this mean, exactly? Simply put, you will be able your device's battery level from 0% to 80% in roughly 35 minutes.
Quick Charge 3.0 is also 38% more efficient and "reduces power dissipation by up to 45%" when you pit it against its predecessor. But speedy charging is not the only highlight of Qualcomm's new charging tech. It's also the first technology of its kind that supports INOV (Intelligent Negotiation for Optimum Voltage), allowing the device equipped with it to determine the exact power level to draw for optimal power transfer to the battery. The voltage steps of said adjustments are vastly superior to the ones of Quick Charge 2.0 - while the latter can charge your phone at either 5V, 9V, 12V, or 20V, Quick Charge 3.0 allows for incremental 200mV steps between 3.6V and 20V, paving the way for more flexibility.
Quick Charge 3.0 will be backwards compatible with its previous versions and different charging connectors, most notably USB Type-C. The nifty new version of the charging tech will first appear on a whole squad of Snapdragon chipsets, like the upcoming 820, 620, 618, 617, and 430 ones.