Qik app for Android is updated to support video chat across various platforms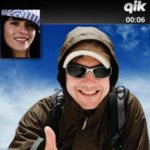 For the longest of time now, owners of devices like the
HTC EVO 4G
and
T-Mobile myTouch 4G
have been able to fully take advantage of Qik's various services, but above all, they seemingly took joy in being able to video chat with the app. Conversely, other Android handset owners who downloaded Qik's app would soon realize that they were only limited with certain functionality – and blocked out from video chat altogether.
Well, those days are now over seeing that Qik is now launching a dedicated app that brings along all the wonders of
video chat
to a wide array of Android devices. Of course you'll have video chat on, but you'll still be able to take advantage of Qik's live streaming and sharing services. Naturally, the other nice thing about the free app is that it's
compatible across a variety of platforms
– including Android
2.1
to
2.3
phones and any
iOS 4 devices
out there.
Furthermore, you'll be able to accomplish live streaming via Wi-Fi, 3G, or 4G connections – so you're not limited to one particular item. Finally, the app itself will integrate nicely with your phone's very own address book and will display contacts that are online and available.
So if you've been bummed by the limited set of features offered by the previous version of the Qik app for Android, you'll undoubtedly be impressed with its new unlocked set of features.
source:
TechCrunch
via
Electronista