QHD>FHD>HD: Note 7 may come with battery-saving resolution switch, icon pack section
25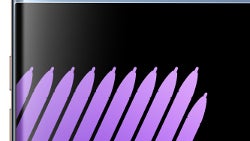 Well, from the guys that apparently have a Note 7 handy, and showed us
the three new S Pen usage options
that are expected to make a cameo with the phablet, now comes a second confirmation about this screen resolution change, and it is a blast. As you can see from the alleged Note 7 screenshot below, the handset could eventually feature a resolution slider in the display settings that can make the Quad HD display a 1080p Full HD one, and even a 720p HD panel, presumably to save on battery when you don't need the hardware to push all those 2560x1440 pixels.
Apparently, the phone will sport a multilevel power saving mode, in addition to the Ultra one we have now. In medium settings the resolution is set to FHD 1080p, and in maximum it is dialed down to HD 720p. Samsung will also evidently let you set limitations for the display's peak brightness regime, too. To cap it all off, the display resolution change is allegedly available to be set independently of those power saving modes, so you can tweak it around to your desire. Samsung does warn that some apps and options might not work at lower resolutions as with the original one, but we already knew that. Still, 1080p seems a great compromise between battery life and pixel density, so we can't wait to measure the
rumored 3500 mAh juicer
's endurance in all modes, if this speculation holds water.
In addition, the source provides some more screenshots that lead us to the thought that not only will there be a new
Note UX
with more rounded icons, new notification bar switches, and an integrated Notes app, but it will also let you pick extra launcher and menu icons, as well as stylus-drawn wallpapers from the current Themes menu, too. That's score two for TouchWiz customization and features for today, we wonder what else will it bring now.