Q4 2013 games revenue doubled on iOS, quadrupled on Android
11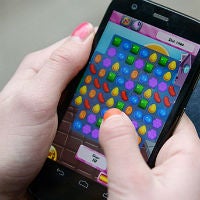 Gaming is huge business, there's really no way around that. We can talk all we want about the success and revenue generated by the iOS App Store or Google Play, but what we're really talking about is how much money games pull in. The new numbers from IDC are out and gaming is continuing to boom. According to IDC, in the fourth quarter of 2013, game revenue doubled on iOS and quadrupled on Android compared to Q4 of 2012.
iOS is still leading when it comes to game revenue. The chart below is awkwardly designed, because 100 is the iOS revenue from Q4 2012 rather than using actual revenue amount totals, which would make far more sense. But, it does show that iOS more than doubled in the past year; and in Q4 of 2013, Google Play generated about 1.25 times what iOS pulled in for Q4 2012. Google Play almost made as much as handheld gaming consoles like the Nintendo 3DS/2DS and Sony PS Vita combined.
Overall, game revenue made up 75% of all consumer app spending for the quarter, which just serves to prove our original point. As you might expect, two of the biggest revenue generators were the same for both platforms with Candy Crush and Puzzle & Dragons, though rounding out the top three for iOS was Clash of Clans, and on Google Play it was Monster Taming for Kaoko, which is a Korean title.