Microsoft gives us a closer look at the Windows Phone 7.8 start screen
23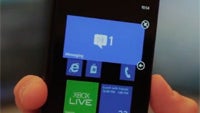 For you Windows Phone owners it's definitely a bummer that not all the current devices will see Windows Phone 8. The good news is it's not as bad as being stuck in Gingerbread limbo like many of your Android counterparts. You do have some upgrades to look forward to with Windows Phone 7.8.
One of the biggest changes will be the addition of the Windows Phone 8 style start screen. Ben Rudolph with the Windows Phone Blog got a hold of a
Nokia Lumia 900
that's running an early build of Windows Phone 7.8 to give everyone a closer look at the start screen and how it behaves.
As you can see in the video, Ben shows us that in Windows Phone 7.8, when you hold down on a tile you get a toggle that allows you to switch between tile sizes in addition to the ability to pin and unpin tiles. Like we said, it is an early build, so hopefully there will be more features to come in the near future, but at least those with current Windows Phone 7 devices will have a bit more customization on their devices, even if they won't get the entire Windows Phone 8 experience.