Prototype NTT DoCoMo handset has a built-in projector
11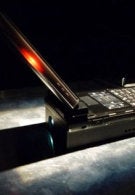 NTT DoCoMo Inc is displaying a prototype phone with an integrated projector at CEATEC Japan 2008. The prototype looks like a small brick, harking back to phones which predate this website.
On the bright side, the prototype is able to display a 20", 480 × 320 image with a throw distance of 80cm and a brightness of 7.5 lumens, for a total of 15-20 minutes with an existing cellphone battery. Creating this display requires power consumption of only 3W. We would think that the throw distance would need to be reduced further, but even a 10" display would be amazing for a phone. The company estimates that three years are required before commercialization, but phones with integrated projectors may arrive even earlier, considering the state of the micro projector market.
By way of example, the 3M
MPro110 micro projector
is now shipping for GBP 299 . Weighing 152 grams / 0.33 lbs. and with dimensions of 115x50x22 mm / 4.5"x1.97"x0.88", the 3M micro projector is completely silent in operation, has a rechargeable battery which provides up to 60 minutes of power, can display up to a 50", 640 x 480 image and accepts composite and VGA inputs.
Texas Instrument's CEO
has said
that cell phones with integrated projectors will be available in the second half of this year.
source:
Tech On
via
Techfresh.net