Project Ara gets plug-in pulse oximeter module
8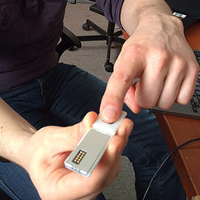 The modular phone technology that Google is working on, known as Project Ara, could have a strong health component. A module has been produced that turns the phone into a pulse oximeter. Certainly you've heard the Doctor on your favorite medical drama ask for a pulse ox reading on a patient. The pulse ox reading measures the percentage of a patient's blood that is saturated with oxygen. Paul Eremenko, the head of the project at Google,
originally brought up the idea in April
. He sees the modular phone as a hub for a number of health related modules.
Eremenko also sees a future for Project Ara as a device that can help determine crowd sourced data patterns. He says that Google plans on releasing a consumer pilot of the phone sometime next year. A precise date will be announced at the Project Ara developer conference in January.
Yesterday, we told you about a competitor to Project Ara,
a modular phone called Vsenn
. Unlike Google's modular handset, the challenger allows users to change just three parts of the handset: the camera, the battery and the processor/RAM. Perhaps the competition will force Google to speed up its work on Project Ara. The first Vsenn model will come with a 4.7-inch HD screen and be powered by stock Android.
source:
VentureBeat