Program that launches Android apps on Windows reaches 10 million downloads
22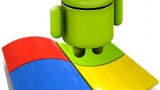 We've written about BlueStacks before - it's a Windows program that allows the user to run Android apps on their Windows PC. We've tried the app and it's pretty cool for the most part, but you wouldn't normally think that such kind of software will become very popular. How wrong can we be! It turns out that since its launch as a beta product about a year ago, BlueStacks has been downloaded some 10 million times!
Of course, that doesn't mean that the program has 10 million active users, but according to the company's Senior VP of Marketing, the number of active users is "spooky high." It also looks like none of BlueStacks' employees though that their software will prove to be so popular with users. According to CEO Rosen Sharma:
When we launched the beta we all took bets on where we'd be in one year. No one said 10 million.
Right now, BlueStacks is looking to get PC manufacturers to pre-load BlueStacks on their computers, with
Lenovo already being on the list
of willing companies. In addition, it's said that BlueStacks will soon get updated to support the most recent Android version - Jelly Bean.
Are you interested in running Android apps on your PC?
via:
AllThingsD