Preliminary Q3 results show T-Mobile taking 950K subscribers from its three major rivals
19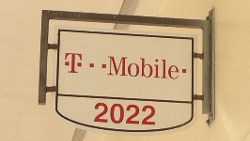 T-Mobile's third quarter ends at the end of this month. The nation's third largest carrier has done a pretty good job of playing musical chairs with its rivals' subscribers. So far during the quarter, T-Mobile says it has grabbed nearly 400,000 customers from AT&T, 300,000 from Sprint and 250,000 from Verizon. Not that this is unique; each of the four major carriers grabs business away from each other. It's just that with its innovative business plan and aggressive marketing, T-Mobile plays the game better than the others.
Add the number of new first time customers subscribing to T-Mobile, current subscribers adding new lines, and customers leaving other carriers besides the major three, and T-Mobile says it has added 753,000 net postpaid phone subscribers during the third quarter to date. It has also added 650,000 net prepaid phone subscribers for the quarter, which has a week and a half remaining.
T-Mobile CTO Neville Ray pointed out in the carrier's press release today, how the wireless operator has taken its 4G LTE coverage from 0 to nearly 312 million over just three years. That means that the carrier now offers its 4G LTE signal to nearly the same number of Americans as Verizon does.
"T-Mobile covers nearly everyone Verizon reaches. I'm calling it. Verizon's coverage advantage is gone. Now, Verizon's rebranding their older, slower network as 'LTE Advanced,' highlighting technology we launched two years ago. Even with their 'new' technology T-Mobile's LTE network is still faster – just ask OpenSignal, Ookla or the FCC."-Neville Ray, CTO, T-Mobile

"All three wireless carriers tried to match Un-carrier signature moves this quarter, like getting rid of overages and introducing unlimited data plans, but as usual, they came up short. Our Q3 results so far have surpassed Q2 in postpaid phone and prepaid nets, and we are adding customers from ALL of the other guys at an increasing rate."-John Legere, CEO, T-Mobile
We should see T-Mobile announce its third quarter earnings sometime late next month.
source: T-Mobile