Pre-orders for Sprint's HTC 7 Pro to start on December 8, 2010?
5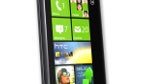 First,
Microsoft's Michael S. Scherotter took the stage twice
during Sprint's Open Developer Conference which took place between 26th and 28th of October, 2010 and now we hear about this rumour which was spread through Twitter that Sprint's
HTC 7 Pro
version is going to be available for pre-order starting on December 8th this year.
It's obvious what all the fuss is about – HTC 7 Pro is going to be the very first Windows Phone 7-powered device scheduled for Sprint and for all these Sprint subscribers who are anxious to feel and touch Microsoft's new OS, this rumour is a timely boost. And yet, you know that anticipation usually sets you up... for disappointment and it's worth noting that this is just an unconfirmed rumour. Our hope is that it will prove to be true, and official information will emerge soon.
source:
WP Central
Recommended Stories