Possible pricing for affordable iPhone emerges
48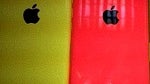 The budget-friendly iPhone has been making the rounds with various
leaked images of multi-colored plastic casings
that are expected to adorn the as-yet unannounced device. Just how affordable might this iPhone be versus the flagship model?
Sonny Dickson is fairly dialed into the realm of prototype news and leaked iPhone parts. He also seems to have a line on what the new iPhone might cost.
The lower cost iPhone might come in the familiar capacity segments we have seen on the past couple generations of devices. A
16GB model might run $349, 32GB for $449 and 64GB for $549.
Those prices represent a $300 reduction from the retail cost of the iPhone 5. Those prices are also less expensive than the iPhone 4S which is still available in 16GB flavor. Even the 8GB iPhone 4 retails for $450.
As for when this device will hit the market, that is still up for speculation, but it is certainly reasonable to expect it about the time, or maybe shortly after, the new iPhone is announced as iOS 7 becomes available to the masses, likely mid-September.
Thanks Vlad for the tip.
via:
G 4 Games