Popular Science names Google Now the Innovation of the Year
33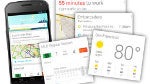 We have been
intrigued and fascinated
by Google Now and all of its
myriad possibilities
since it was announced, and it seems that we haven't been the only ones.
Popular Science
has now named the new service as the Innovation of the Year, which is a pretty impressive award. Popular Science has tried to choose products that are deemed "milestones", products that fundamentally change something in our world. Some of the past recipients include: the digital camera, seedless watermelon, the Chunnel, the portable defibrillator, TiVo, SpaceShipOne, the genome sequencer, the Apple iPhone and App Store, and the Large Hadron Collider.
This is actually the second Google product to make the list after Google Maps. According to
Popular Science
editor-in-chief Jacob Ward, Google now made the cut because "It really crosses a line, not just technologically, but in terms of the expectations that we humans have about our relationship to our technology," and added:
Voice interfaces like Siri seem outdated by comparison. With Google Now, you don't pull the phone out when an idea occurs to you. You pull it out when an idea occurs to it.
Perhaps it's because we've said something
very similar
in the past, but we have to agree with Mr. Ward. Google Now may have relatively limited functionality right now, but it is growing fast, and the potential for offering us more and more information is always there.