Poll results: Would you pick up one of the Samsung Galaxy A devices when and if they hit the market?
12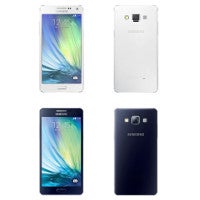 It would appear that the
Galaxy Alpha
wasn't simply an answer to the Apple iPhone 6. Instead, the rumorsphere (yeah, it's a thing now) suggests that one of Samsung's most stylish devices is but a piece of a new strategy that will see the electronics giant manufacture non-flagship devices that are endowed with premium materials in their construction -- like metal. The name of the new line? Galaxy A (or Galaxy Alpha, according to some).
So far, we've caught a whiff of a Galaxy A3, A5, and A7, all of which have differing screen diagonals -- 4.5'', 5'', and 5.5'', respectively. The phones are believed to all sport the new quad-core Snapdragon 410 processor from Qualcomm, 2GB of RAM, and 13MP cameras. And price? Anywhere between $300 to $500, depending on the model, reportedly. Overall, not a bad deal considering this is a major brand-name manufacturer (those have been reluctant to forego their usual profit margins in order to compete with outliers like the Moto G). But we wanted to hear your input, which is why, on
Monday, we gave you the opportunity to speak up
. And speak up you did.
Unfortunately for Samsung, the majority of you (52.44%) don't feel very hot about the new line, though it should be noted that some of these votes may simply be by people who are generally not interested in anything but high-end, flagship devices. Anyway, a quarter of poll-takers (25.74%) sit on the other end of the spectrum, and are tempted by the idea of getting their hands on one, permanently. As for the remaining fifth of votes (21.82%), those can be attributed to people that are still undecided (which is normal, seeing as the Galaxy A line is not yet official).
Do these results surprise you in any way?