Poll: Would you pick up one of the Samsung Galaxy A devices when and if they hit the market?
33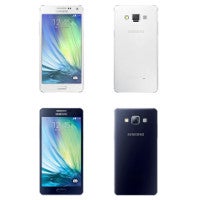 If you're following
the Samsung-related news stream
closely, then you'll know by now that the company certainly appears to be closing in on the finish line with a new line of Galaxy A devices. From what we know so far, there will be at least three models -- the 4.5-inch A3, the 5-inch A5, and the 5.5-inch A7. All of them will come packing mid- to lower high-end specs, and have metal used with their bodies. Supposedly.
Obviously, it'll be a while longer until we know for sure if these devices really exist, but the evidence is there and is becoming
more substantial by the day
. We already have a ton of photos, including official-looking renders, and those, along with preliminary specs info and pricing, ought to be sufficient for you to have already formed some kind of initial impression. Perhaps more importantly, however, those will have inevitably helped some of you to figure out whether they'd be interested in picking on up.
So what say you? Is the Galaxy A line headed for success?