Poll results: Would you buy a phone for the thermal camera?
14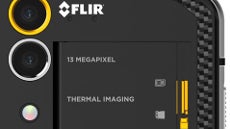 Yesterday, we asked you if the presence of a thermal imaging camera would be a unique enough feature for you to splash a bunch of money on a phone, ruggedized or not. Turns out you would, if the price is right, and the rest of the specs sheet is decent, as that's the answer of more than half of our respondents. About 24% say they will have no use for a thermal imaging camera, though.
Cat, the maker of extremely rugged phones that you might have seen in the hands of construction workers or your car mechanic, is out with its newest darling - the S60. Not only is the
Cat S60
the most advanced and elegant (well, comparatively) such gear that the company has ever devised, but it has also outfitted it with a unique differentiator in the form of an embedded thermal imaging camera.
Cat is using FLIR, the standard in commercialized thermal imaging, so that you can use the phone for stuff like "detecting heat loss around windows and doors, spotting moisture and missing insulation, identifying over-heating electrical appliances and circuitry, or and seeing in complete darkness. The adjacent thermal camera app allows for things like changeable heat palettes, temperature spot metering, and min, max, as well as average temperature data readouts. This type of thermal imaging can be used in plethora of circumstances, as Cat explains:

The thermal camera visualizes heat that is invisible to the naked eye, highlighting temperature contrasts. It can pick up heat and measure surface temperatures from a distance of up to 50 to 100 feet, and see through obscurants such as smoke, enabling a huge range of use cases for building professionals, utility workers, outdoor sports enthusiasts, and emergency first responders to name but a few.