Poll results: What do you think is Samsung's phones' biggest drawback?
39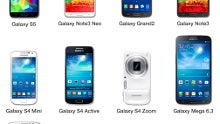 There are
major changes brewing at Samsung
, and chief among those is the fact that we will be seeing far fewer Galaxy Megas, Cores, Grands, Aces and so on. Even we already lost count of those, and we doubt anyone is trying to keep up anyway, as the tens of phones that Samsung is turning every year with very minor specs and design differences to each other and even their predecessors got very confusing very quickly.
An eventual
dual-edged Galaxy S6
, or whatever the
Project Zero
undertaking gets named in the end might mark a major change in direction for Samsung, as already hinted by the Galaxy Alpha line, that's why we asked you last week what do you consider Samsung's phones biggest drawback to be at the moment. Is it the design, the software, the price, or simply the confusing variety of similar handsets it spits out every year?
Well, TouchWiz won the Golden Raspberry award here, just as expected, with 43% of our nearly 5500 voters, and who can blame them - Samsung's UI is stuffed to the gills with functions, but its looks are far from uniform, while the latest and greatest interfaces on Xiaomi, Huawei and Lenovo phones, for instance, can rival it in functionality, but have well-rounded good looks, too.
The uninspiring design won second place with 22% of the voters pointing at it as the other culprit for Samsung's current troubles. Next in line is the confusing variety of smartphone lines in Samsung's Android portfolio - the above-mentioned Megas, Cores, Grands, Aces and so on - they all look alike, and the specs differences from a generation to generation are too minimal to warrant remembering them anyway. Fairly enough, almost nobody mentioned specs as Samsung's weak point, and with a good reason - the company's flagship handsets have always been at the forefront of technology. The price that Samsung asks for these specs, however, took fourth place with 12% of the votes, as when those specs come wrapped in a tired design, and access to them is granted via the aging TouchWiz overlay, it's not easy to stomach a $600+ starting price.
What do you think, are these results a fair assessment of Samsung's current strengths and weaknesses? Companies often do wonders with their backs to the wall, that's why we can't wait to see what changes will be introduced with the eventual Galaxy S6 come springtime.