Poll results: Samsung is far from having nailed it with the Note5
99+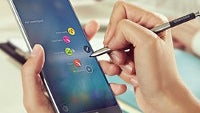 Hot on the heels of Samsung's announcement of its two new super-phablets — the
Galaxy Note5
and
Galaxy S6 edge+
—
we asked your opinion on what you thought about the former in particular
. Did Samsung nail it with the new Note? Or not at all? In less than 24 hours, exactly 2,000 of you gave their opinion, and voting is now officially closed.
We won't lie to you, while the results aren't horrendous, things sure aren't looking that good. For starters, the largest concentrated body of voters, accounting for 46.7% of all votes, thought that Samsung failed to get it just right with the Note5, though that answer alone is obviously insufficient to deduce just how bad they thought the company did. On the other end of the spectrum, 21.4% of voters thought the company absolutely hit the nail on the head with the Note5, and delivered in their eyes. Finally, the inbetweeners accounted for 31.9% of the votes — they say they thought the Note5 was okay, but nothing more (or less) than that.
Judging by the comments under the poll itself, and the many other Note5-related pieces we've published in the past 18 hours, this split doesn't strike us as surprising. Are
you
surprised?