Poll results: Redmi Note 2 vs Galaxy A7 vs Meizu M2 Note, which one would you pick?
4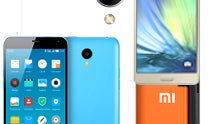 Xiaomi filled the airwaves yesterday with the arrival of its newest value-for-money blockbuster - the
Redmi Note 2
- which carries the stunning price of 799 Chinese Yuan for the basic 16 GB version, translating to about $125 without any contract shenanigans.
Xiaomi made its glory on such well-appointed phones that it usually begins to sell near cost, but keeps them longer on the shelf than usual, and turns a profit when component prices start going down with time. The big fly in the ointment this year, however, is that some Chines manufacturers have begun to mimic Xiaomi's strategy, resulting in the $160
Meizu M2 Note
that has specs almost similar to the Redmi Note 2, and which we found in our review to be an excellent phone for this price, with one of the longest-lasting batteries in its class, and very good photographic chops.
Throw in a juggernaut like Samsung with its
Galaxy A7
that also has very similar specs to those two, but offers a premium design for a higher price, and the fight of the budget 5.5-inchers is getting really bloody. This is why we asked you yesterday which one of those three would you pick, if you were looking for an affordable phone with a large screen. Somewhat unsurprisingly, given the amazing value-for-money ratio, your choice overwhelmingly went to the Redmi Note 2, which offers 0.1s autofocus thanks to its phase detection tech, an IR blaster, and a removable battery. Granted, it is still to prove itself in our reviews and benchmarks, but on paper it seems like the sweetest option indeed, at least until the first real-life usage opinions start pouring in.