Poll results: Galaxy NEXUS vs Galaxy S II vs DROID RAZR vs iPhone 4S
99+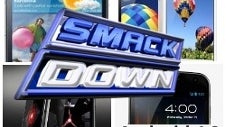 The Samsung GALAXY Nexus was announced last week with industry challenging huge 4.65-inch screen with a
resolution of 720x1280 pixels
. The beautiful contoured screen was the biggest and brightest highlight of the device, but along with it came a brand new Android – 4.0 Ice Cream Sandwhich. Together, last week's joint Samsung-Google event was like the two companies shouting in the mountains – the echo would definitely trigger an avalanche of devices.
But the Galaxy Nexus, the first one is already announced and it's shifting the tectonic plates of the industry. At least over here at PhoneArena, as the majority of you opted for the new Nexus amidst all other top-tier handsets. Let us remind you – last week we brought you four cream of the crop
smartphones in a spec smackdown
for you to judge the winner. But it wasn't just specs that mattered – you had to pick the device you'd vote for with your dollar in the future.
The
Galaxy Nexus turned out to be the clear winner
, but the battle for the second place was fierce. It was up until the very last minute that a couple of votes tipped the scales in favor of the upcoming Motorola DROID RAZR and deservedly so – the handset packs LTE, a dual-core chip and a previously unseen ridiculously thin body.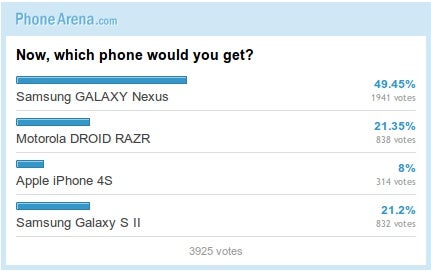 The Galaxy Nexus got nearly half of your votes.
The RAZR got 21.35% of your votes, while the now available Galaxy S II snatched 21.2% for the third place.
Strangely, given the incredible sales data about the
iPhone 4S
, it couldn't hold its ground and only got a meager 8%, or 314 votes.
In our view, there's one clear conclusion to draw from your vote – the Nexus line has for the first time managed to produce an Android flagship, a device other phone makers will probably reference in the form of the beautiful GALAXY Nexus. The iPhone 4S also seems to have lost its cutting edge status and is now admired more for its traditional stability.
Now, what do you make out of the results?