Poll results: Do you like the looks of Android L?
21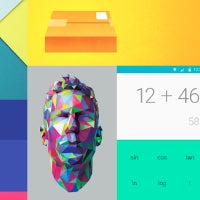 The upcoming L release of Android has been already showcased on the stage at Google I/O 2014, and we've been already treated to the so-called "
Material Design
", the new looks of Google's mobile platform. This fresh new design language will see the light of day in the upcoming Android iteration strays away from the design that we've gotten used to from Android 4.0 Ice Cream Sandwich onwards.
Good riddance, Holo UI - Material Design greatly resembles
"colored paper" and "graph pages"
. It looks seamless and cohesive, but it also comes with a certain level of depth. Yes, that's right, some aspects of the UI float above the rest, creating a pretty curious 3D effect. Hardly any aspect of the interface has been spared from the Material Design overhaul. You can see a brief comparison between the old and the new looks of Android
here
.
As the visual overhaul will be quite serious, we decided to ask you, the regular Android users, if the appearance of
Google's Material Design suits your liking
. It appears that 334 of the 449 respondents - that is exactly 74.39% - like the looks of the upcoming Android L. Alas, some 43, or 9.58%, of the respondents stated that they don't like this new Material Design. The remainder of 72 voters neither liked nor disliked the visual redesign - they'll probably make up their minds once Android L arrives on their devices.