Poll results: Do you expect an industry status-quo change in 2014?
8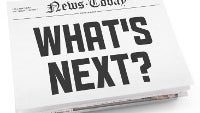 Apple and Samsung. It seems as if no matter what the competition does, these two always finish on top at the end of the year when the coin-counting commences. And that's for a very good reason -- both have their specific area of expertise, and they know very well how to make the most out of it.
But as we love to remind you every chance we get, the competition is becoming more and more intense. Brands from literally every corner of the globe, both big and small, are closing the gap and are looking ever more ferocious and ready to compromise the foundations that prop the two incumbents. What's more, it looks as if consumers are also getting a bit tired with the status-quo, which, some argue, has made Apple and Samsung complacent and unmotivated to continue innovating. But does that mean a dismantling of the status-quo? We wanted to hear your thoughts, and you spoke up.
Nearly 20% of you think that a "major upset" is what lies ahead for the Apple/Samsung duo in 2014. That could happen, just look at BlackBerry and Nokia. The majority (over 57%), however, while agreeing that a change is coming, are not inclined to bet that it'll happen quite so fast. Things are brewing, they agree, but it will likely take longer than just a few measly months. Lastly, 22.7% err on the side of facts, and do not feel as if anything is capable of unseating the two giants in the near future.