Poll results: Are you planning to install the new public iOS 10 beta?
3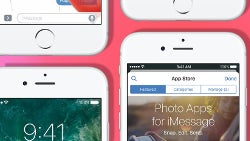 Now that the public beta of iOS 10 has been released with a general preview for everyone with iPhone 5 and above, we asked you last week whether you intend to install it. It turns out that more than half of our respondents could give the iOS 10 features a taste before the real deal rolls out in the fall, speaking well for the novelty of features that Apple has hammered in.
With iOS 10, Apple introduced those in-your-face interface changes its predecessor couldn't, as iOS 9 was mainly focused on under-the-hood optimizations, like speed and security. We have a brand new Lock screen with rich notifications, widgets and quick camera access, a more interactive Peek preview that utilizes
3D Touch
on the
iPhone 6s
and
6s Plus
, as well as a brand new
Apple Music
.
Not only that, but Apple decoupled the stock apps from the operating system for faster updates, and significantly enhanced iMessage, making it possibly the most full-featured secure chat app out there. That's not all, however, as when we installed the iOS 10 Developer Beta we noticed a veritable smorgasbord of even smaller, but svelte features that Apple didn't have time to mention in the keynote, or list them on its website - like the Clear All option in the notification center, or the Close all Tabs feature in Safari.