Poll results: Are you currently paying for phone insurance?
13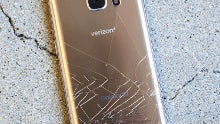 We asked you yesterday whether you are currently paying to insure your phone, and a surprisingly high number of our respondents said they do. We didn't expect that many people are opting for extra protection instead of just, say, just slapping a case on it, and going with the flow.
Given the proliferation of elaborate screen technologies like the curved AMOLED panel on the Galaxy S7 edge ($270), or the 3D Touch screen on the iPhone 6s Plus ($150), shattering those will cost you a pretty penny to replace, and some insurance options are better in that regard than no coverage at all, unless you are absolutely certain you will never drop your gear face down on concrete. That's the advantage that phone maker insurance like AppleCare or Samsung Protection, or third-party options like SquareTrade offer.
Given that these phones cost north of $600, it's also worth looking at the carrier insurance options, as they also cover loss and theft protection for about $10 a month. In any case, the more expensive the handset, and the less desire in you to constantly worry about its whereabouts or fate during nights out, the more sense it makes to splurge extra for insurance.