Poll: Are you an Apple fan?
99+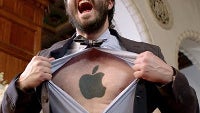 For all its success, Apple's not a company admired or loved by all. Yes, year after year, the California-based tech giant moves tens of millions of iPhones and iPads, making a fortune in the process and suggesting that
a lot
of people love what it does, and yet we constantly see folks — vocal or not — that don't have the hots for the company that Steve Jobs started in his dad's garage.
Why? Those people have their reasons. From those who don't agree that Apple should be taking as large a cut from sales in terms of profits, through those who simply don't dig the closed nature of the iOS operating system, down to the specs nerds that feel that Apple is using inferior hardware compared to its competitors. At the same time, however, the Apple loyalists are plenty, and they vote their mind every time a new iGadget comes on by camping outside of Apple Stores and with their wallets.
It's an interesting love/hate dynamic, and one that deserves its own dedicated piece exploring the causes, but for today we'll settle for a real simple poll: Are
YOU
an Apple fan? Let us know by voting
your
mind, and then consider speaking your mind in the comments below.