Play with virtual LEGOs in the Brickheadz app for Daydream VR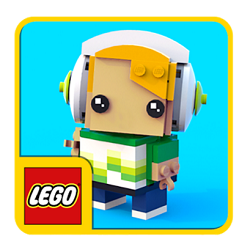 Google Daydream is the latest virtual reality platform to hit the scene, but as it currently stands, it's a bit limited in regards to both software and available hardware. Only a handful of smartphones are properly equipped for the Daydream experience, Google's own Daydream View is the only official Daydream headset that's yet to launch, and with the platform being so young, the app selection is still a bit lacking. We'll likely see plenty of new hardware for Daydream throughout 2017, but the software situation is one that's already improving.
The latest Daydream app comes in the form of LEGO Brickheadz, and although it may not be the most revolutionary VR experience ever, it does look to offer plenty of fun for those that are fans of playing with LEGOs. The Brickheadz brand was first announced by LEGO earlier this year with partnerships between both Marvel and DC, and although the physical Brickheadz toys won't officially launch until sometime in 2017, the app allows you to play with them in a virtual space right now.
The LEGO Brickheadz app lets you create your very own Brickheadz figures, and new characters and models can be unlocked by successfully building designs that are provided to you in the game. This is a VR experience that will likely have a greater appeal to younger audiences, and while I'm definitely not the target market for this game, I've got to admit that I'd love to try playing with these virtual LEGO blocks at some point.
LEGO Brickheadz can be downloaded now from the Google Play Store, but do so with caution. The app currently features the tag of "Unreleased", meaning that there's a good chance you'll encounter a bug or performance issue here and there while using it. Even with that being the case, it is a free download, so you don't have a whole lot to lose.