Plants vs. Zombies for iPhone gets new game modes
4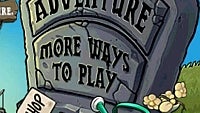 Just when we thought we were out, PopCap is pulling us back in. PopCap Games has released an update for
Plants vs. Zombies
for iPhone, including 1 new game mode, 6 new mini-games, and 6 new achievements. Let the zombiepocalypse begin.
The new game mode, 'Zen Garden', takes a slightly more traditional approach to the gardening theme. You start off with some sprouts on bamboo palettes, and water and fertilize them to health, receiving in-game credits for your efforts. You can buy new plants, as well as helpful accessories like an upgraded watering can, fertilizer, and pesticide.
The 6 new mini-games are 'Zombiquarium', 'It's Raining Seeds', 'Column Like You See', 'Slot Machine', 'Beghouled Twist', and 'Portal Combat'. If you played the desktop version, then you're already familiar with these modes. But they're new for mobile users.
Along with the update,
PopCap
informed us that Retina Display support will be coming along this year, along with some new modes called 'IZombie' and 'Vasebreaker'. Thank you PopCap, for once again giving us a great excuse to not work.
source: PopCap Games
Recommended Stories