Pissed-off Legere aims for 250,000 signatures on his petition to abolish overages on rival carriers
54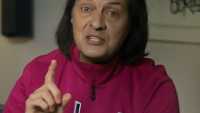 T-Mobile CEO John Legere cannot bottle the anger he is feeling toward the competition and the overage charges they add to subscribers' monthly bills. Legere says that T-Mobile figured out that these mobile operators raked in $1 billion in overage charges in 2014. Calling these carriers "
idiots
," Legere has started pushing for more signatures for his petition on Change.org which asks the competition to follow T-Mobile and abolish overage charges.
The petition has over 200,000 signatures so far, and is the most popular one on the site. And to make things interesting, the executive says that when 250,000 signatures are reached, he promises to "
send a message they (the carriers) won't be able to ignore
." A year ago,
T-Mobile dropped overage charges and Legere posted the petition
. Despite drawing strong support, the petition has failed in its attempt to get T-Mobile's rivals to drop charging overages, something that Legere says made him angry.
"In 2013, more than 20 million Americans were hit with punitive overage charges by U.S. wireless companies, and all Americans have known the fear of wireless bill shock. Overage penalties from AT&T, Verizon and Sprint take more than an incredible $1 billion out of consumers' pockets every year. It's time to show these companies that we're not going to take these outrageous fees lying down anymore."-John Legere, CEO, T-Mobile
Fresh off his Twitter battle with none other than Donald Trump
, Legere is clearly a man on a mission. You can read the petition and sign it by clicking on the sourcelink. You can also view a VLOG starring T-Mobile's CEO by clicking on the video below.
source:
Change.org
,
T-Mobile
via
TmoNews