Pipsqueak: When you need a real kid-friendly diversion from your smartphone
3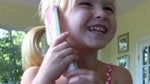 While technology is allowing us to take advantage of features like Kid's Corner on Windows Phone, or FreeTime on the Amazon Kindle Fire HD, the reality is that you are still passing several hundred dollars' worth of equipment into a kid's hands.
That is fine if you feel that your kid appreciates the value and importance of your smartphone, but let's face it, if the child is young (or just acts young), it really just seems like all they want to do is get their grubby little mitts on your stuff and start messing around. That then potentially puts your device in peril or worse, your reputation (nothing like a kids-speak text being sent to your boss). Well, a husband and wife team may have found a solution to avoid that.
Pipsqueak, designed by a company called Yip Yap, is made for kids aged three or younger. This durable little Bluetooth radio has changeable covers, and just like any other Bluetooth device, you can route calls to it. Yip Yap is run by Michael and Angela Smith, and they have set up a site on Kickstarter to help raise funds and bring this device to market. If they reach their goal, they will also ensure that an Android and iOS app is developed so that you can also set-up approved contacts in your device and that would allow approved callers to get directly routed to your child's handset.
The apps will also act as a proximity alarm so you will know if your kid's Pipsqueak goes out of range. The kid-tough handset is also an MP3 player. The company is hoping to raise little over $187,000 to bring the product to retail stores. It seems like a fine idea, how many parents out there have a horror story about what happened to their device at the hands of their kids?
source:
Yip Yap
via
Mashable