Piper Jaffray study of Twitter wish list finds Apple iPhone on top
4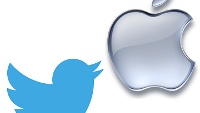 NYSE brokerage firm Piper Jaffray recently analyzed 25,000 tweets sent to @Santa with the hashtag #WishList to see what everyone is wishing for this Christmas season. Coming in on top was the Apple iPhone, mentioned on .49% of the tweets received. The iPhone had a pretty big lead over the runner-up wish, the Sony PS4. The game console was listed on .34% of the tweets analyzed. That beat out the Apple iPad by .01%.
Tweets that mentioned "Galaxy" accounted for .14% of the tweets sent out to Santa. "Tablet" and "Samsung" were both listed on .08% of the wish lists while Android completed the top ten, mentioned on .03% of the tweets. Besides the iPhone and iPad, the Apple iPod finished 7th, listed on .08% of the tweets analyzed by Piper Jaffray.
So who exactly sends tweets to Santa with a wish list? Piper Jaffray found that 29.9% of the messages came from those between age 14 and 17. The highest total, 34.5%, came from those aged 18 to 21. The numbers drop off from there with only 4% of the tweets coming from those above 30 years old.
"We would also note that the list encapsulates items that consumers want if money were no object. Although this doesn't directly measure sales, we view the data as a positive, knowing that consumers continue to look to Apple products as the most desirable holiday gift."
-Gene Munster, analyst, Piper Jaffray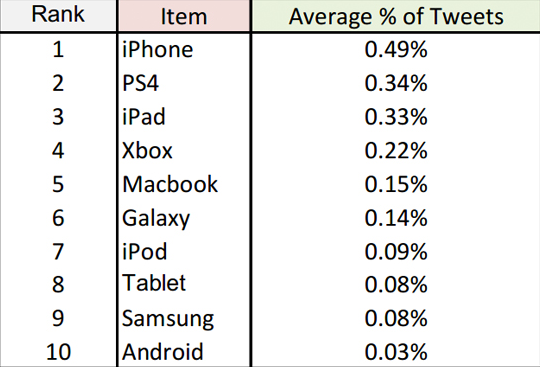 The Apple iPhone was the most mentioned device on a wish list tweeted to Santa
source:
PiperJaffray
via
AppleInsider