Pie Message project attempts to bring iMessage to Android
17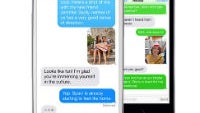 Pie Message is a very interesting open source project that is attempting to bring iMessage to Android users. While incomplete, it is especially notable because it could be used in other apps built by anyone. Of course, there is also a fair chance that this project will amount to nothing for reasons which we'll get into later.
The idea is basically to use your Mac as the messaging server. So, Pie Message will send a text to your Mac, which will then send along that message through the real iMessage service. This makes for a nice method because it limits what Apple can do to break the system, since you are using a Mac. And, it also helps to hit the target users, because if you don't have an iPhone or a Mac, why would you need iMessage anyway? If you've got no Mac products and have friends on iOS, there are plenty of other ways to chat with those people.
The service is limited right now. Developer Eric Chee has noted that Pie Message can receive group messages, but can still have troubles sending messages. He also said that it is possible that Apple could patch Mac OS X to break the project in the future, so it could end up being for nothing. But, if Apple continues to allow it, developers on any platform could theoretically use the Pie Message APIs to create apps that work.