Picture of Big Sur taken with the iPhone 5 and an iPhone 4S analyzed, there might be a bigger sensor now
26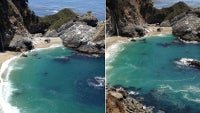 Apple posted the
full-size versions of its promo camera shots with the new 8MP iSight camera on the back of the iPhone 5
, saying that these are the untouched versions straight from the phone's internal storage.
One picture, of Big Sur in California, caught the eye of Scott Everett from DPreview, the famous photography site, as he was just recently there, and had taken a shot from a similar position, but with his iPhone 4S.
He put the two photos side-by-side for as close a comparison as we can get until the
iPhone 5
hits shelves. The iPhone 5 sports a tad nicer colors and more detail, but the lighting that has been in place at the different times might have something to do with that as well, of course.
What's more interesting is that DPreview speculates
the sensor inside of the iPhone 5 must be different than the one in the iPhone 4S
, after digging in the EXIF data of the photo. The ISO went all the way down to 50 for this shot, in the case of the newest iPhone, suggesting lower minimum sensitivity than the iPhone 4S, which goes down to 64 ISO at the minimum. Apple claimed that the
new and improved iSight camera
has been created with low-light photography in mind, too.
Further prodding around the EXIF data yielded the fact that we might have a slightly larger sensor in the iPhone 5 - it uses a 4.1mm lens to achieve 33mm equivalent field of view, whereas the iPhone 4S has a 4.3mm lens, giving the 35mm equivalent.
Furthermore, a reader sent to Gizmodo a similar shot of Big Sur to the ones taken with the iPhone 4S and the iPhone 5, but snapped with his oldie-but-goodie iPhone 4, and its 5MP camera, so you can see the complete three-generational comparison in the collage below.