PhoneArena's Retro-Rewind: Nokia 5110
10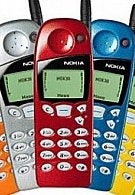 It's almost ironic to see Nokia's presence here in the US when you look back at what the largest phone manufacturer in the world has managed to accomplish. We may not see the light of some of the Finnish manufacturer's tastiest of handsets – that's unless you decide to dish out some serious cash to pay for one of their unlocked handsets. Still, the foundation that they started back in the early days of the last decade rings deeper than one thinks. Looking back at it, Nokia has been known to craft handsets that seemingly cater to a mix of segments which allowed them to extend their brand and reach out far beyond their boundaries. There is one Nokia handset that defied the odds by capturing the interest and spawned the revolution that captured the imagination of new mobile phone users – essentially ushering in the dawn of the modern cell phone era for most of us. Not only was the Nokia 5110 arguably the most popular phone in the world at one point, but it allowed just about anyone to get into owning a handset possible.
Invalid image meta
Although it might be considered as hefty by today's standards when you pit it up against some of the extremely compact handsets out there, the Nokia 5110 redefined what the modern candybar phone should look like. Not only did it have one tough exterior that didn't have any moving parts to tarnish its uniform look, but it made the standard phone become more pocketable than anything else. It ultimately laid some of the foundations we all expect cell phones to accomplish – such as making quick phone calls and the ability to text. Nokia must've planned out its design carefully as it was able to spawn a new market that aimed to really make the cell phone a personalized piece of technology – meaning that there were tons of ways owners were able to enhance its looks. Taking a trip to local malls, there were plenty of shops where individuals could remove the default faceplate and purchase one that matches their liking – there were even those cool looking ones that lit up the phone in different colors whenever the phone rang.
The Nokia 5110 was first originally launched back in 1998 for the 900 MHz GSM networks with plenty of variants popping up during its heyday – the 5130 operated on the 1800 MHz GSM network that was used by Orange in the UK, North American got treated to the 5190 which is a 1900 MHz only GSM handset, the Nokia 5160/
5165
operated in the 800/1900 MHz spectrum and analog AMPS service at 800 MHz, and the Nokia 5180i/
5185i
were CDMA/AMPS handsets.
It was marketed almost perfectly to the point where it was seen being used by many people you knew. Most users were probably enthralled by common calling features that we are now are used to seeing on most phones – like caller ID and call waiting. As far as services go, it did provide a starting point for many as texting slowly started to get mainstream appeal – it made us aware about the procedure on using the keypad to slowly make out words. Finally, it brought forth the popularity of killing time by playing Snake on the handset. Alas, the Nokia 5110 and all of its variants brings us back to a time period where cell phones were predominantly used strictly for calling – although plans back then really didn't offer long distance calling as a standard feature. With its decent battery life and simple design, the Nokia 5110 will live on as a testament to the growing popularity of cell phone usage on a global scale.