PhoneArena's Retro-Rewind: Motorola v70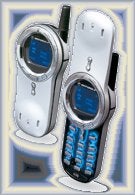 Some can argue how the
Motorola RAZR V3
was able to change a lot of things when it epitomized the sense of style and luxury that can be found on a cell phone. Sure it had a sleek new look and was constructed out of some quality materials that would eventually become one of its most sought out defining characteristics – even to this day, there are people who still marvel at the aging handset. Before that handset arrived on the scene to commence Motorola's long reign at the pinnacle of their existence, the
Motorola v70
popularized the notion of what a handset was required to have in truly embodying the luxury segment. Not only did it revitalize the stagnant types of cell phone form factors, but it can also be looked back as being something never been seen before during its time – as if it were something that was from the future. The mystical aura surrounding it easily made people want to take a closer look and experience the true essence of what a luxury phone is all about.
The
Motorola v70
was first made known back in 2002 when the cell phone market was dominated by the vast mix of flip and candybar phones. Up until that point, there were few that decided to go outside of the box and venture on with some unorthodox designs. Luckily Motorola's designers meticulously crafted one of the most recognizable luxury devices with the
v70
– and it truly was able to distinctly separate itself so that it was in a class of its own. The biggest thing to stand out with the phone was its face plate's swiveling
motion
to get the handset open and exposed – plus the chrome ring surrounding the circular display supplemented its luxury status. At the same time, the buttons on the numeric keypad had this blue glow surrounding the outer edges of each key to enchant people to its subtle aura. Despite having a serious focus on the construction and unique design of the
Motorola v70
, it did not embody its luxury status under the hood – it lacked some refinements such as Bluetooth and InfraRed. On top of that, most consumers were not yet adjusted in forking out the cash (as much as $400 on contract) for a luxury branded phone – which obviously could've been its Achilles heel.
However, the
Motorola v70
distinguishes itself even to this day as some kind of phone that came from the future – it was just so different and you couldn't resist taking a closer look. Fortunately the swiveling faceplate design did not die off with the
v70
, as most recently Motorola decided to take another punch at the luxury segment. If you really want to see how well Motorola's designers took the
v70
to a whole new level, one just needs to check out the
Motorola AURA
which utilizes a lot of the design elements that the
v70
established. When it comes down to it, the
Motorola v70
was yet another stepping stone that ultimately had a part in the rise of Motorola's reign as being a true innovator in the mobile space – as it was ultimately evident when they started rolling out the
RAZR
.
Motorola v70 Specifications