PhoneArena's Retro-Rewind: Motorola v60
13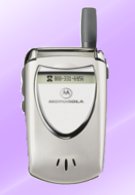 Here at PhoneArena, we've been privileged over the years to check out the latest and greatest in the mobile phone world. Since our inception, we always see a constant trend and innovation in technology that further spurs the growth in the creation of handsets – it fuels the ever growing category of crafting devices that are compelling and have a long lasting deep effect. Although everyone may always be looking to see the next big thing, some phones may get lost in all of the translation when newer devices replace older ones – much like how the old saying goes. "Out with the old, in with the new." Taking a trip down nostalgia lane can sometimes make you realize how some of those old handsets we used to sport really impacted the mobile industry. We're going to look at some fundamental handsets that were truly revolutionary in their own aspect; not just the obvious popular ones out there. We may even look into devices that were just unique in their own way; even if they weren't considered a huge success in terms of units sold. Every now and then we will feature a select phone and take you on a trip back to memory lane on some of these handsets that remind of how it used to be. With that in mind, we proudly present to you our first Retro-Rewind look.
Motorola's financial successes can be attributed to a plethora of innovative devices that truly revolutionized phones – both from a design aspect and the kind of impact it had on consumers. Before the
Motorola RAZR
stormed the country with its sleek looking all metal design, another Motorola phone set the precedence far before that. The
Motorola v60
came out during a time when color screens weren't prevalent and the flip phone form factor dominated the landscape of mobile phones. Some would consider the handset as being fashionable and luxurious; especially when you consider its price tag of $299.99 when it was first released. The
v60
brought along a sense of style and personality that nothing up until that point offered – you knew this handset was something with its anodized aluminum housing. Moving pass its design, it offered some impressive features that most owners weren't accustomed to seeing – such as internet access, text messaging capabilities, and voice activated dialing. It didn't become a best-selling phone until a year after its initial release – it ended up becoming available in all three cellular technologies during that time; GSM, TDMA, and CDMA. It truly became a worldwide success for Motorola and brought forth what many would consider as the golden years for the American manufacturer. There are a lot of flip phones out there that could attribute their success to this device; we know that the
Motorola v60
will always be ingrained in our memories for being one step ahead of its time.
Motorola v60 Specifications
|
Review