PhoneArena readers aren't too bothered by the hump of the Nexus 6P
20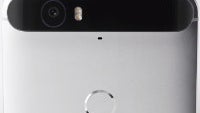 Huawei, not Motorola, made this year's Nexus phablet, and that's plainly obvious with the design of the 6P. We've got a full metal body made out of anodized, aeronautics-grade aluminum, complete with a round, touch-type fingerprint scanners. Immediately above it, however, sits the 'hump'.
The hump on the Nexus 6P is a horizontal strip that starts with the camera and ends towards the right edge of the device. This symmetry means the phone won't wobble when put on a table (unlike the latest iPhones, for example), but it's still arguably unsightly. Emphasis on arguably, which gets us to our yesterday poll: Does the hump bother you?
Over 2,600 people voted, and the vast majority (48.99%) aren't bothered by the hump. The other two options on the poll came out with near identical vote counts, with people who find it unappealing getting 25.65% of the virtual ballots, while another 25.35% reserving their right to an opinion until after they've had the opportunity to handle the 6P.
For what it's worth, we're with group numero uno. We don't mind.