PhoneArena Portal: Announcing the Moto X Style & Pure Edition
13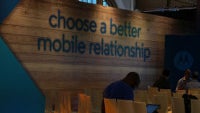 Prior to its announcement, we were skeptical about any announcements besides the new Moto G, but as we sat and waited for the event to begin in New York City, you could feel something else bigger was already brewing. By the end of it all, we came away utterly impressed by what Motorola announced. Unlike some of its rivals, Motorola doesn't have many big events throughout the year – only reserving one day to make its announcement for pretty much the next full calendar year.
And boy was it something! In our latest PhoneArena Portal series, we take you into the announcement of the new devices from Moto-land. All fingers pointed to the unveiling of the third-generation Moto G, but we were completely surprised when the new Moto X was also introduced. Very recently, we've been spoiled by some undeniably competitive smartphones that bring the heat with their combination of killer specs and low price points – such as the ZTE Axon Pro and OnePlus 2.
However, now that the Moto X Style/Pure Edition has been announced, it redirects things towards a whole new course. Hard to deny its ambitious efforts, Motorola ensures that it's going to be a formidable force once we enter the busy holiday season. Don't forget to check out the video below summarizing our thoughts about the event and the new phones! Hello Moto indeed!