PhoneArena Awards 2012: App of the year
49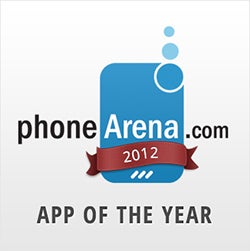 It isn't what your smartphone can do, it's what you can do with your smartphone. And for the most part, what you can do with your smartphone depends on what app you have installed on it. Speaking of apps, we got to try a lot of them over the past 12 months – some useful and easy to use, others not so much. A handful of these apps, however, stood above the rest, so we decided to dedicate an entire post to them.
Ladies and gents, today's category in the PhoneArena Awards of 2012 is for the app of the year! And actually, we won't be honoring a single application. Instead, we've decided to share with you our 5 favorite apps of 2012, just because the nominees for the top spot were so many.
Now go check them out below and tell us what you think about the apps we've picked. Would you agree with our selection, or you'd rather recommend some other app as the best one introduced this year? Sound it off in the comments!