Petition tries to get Fisher Price to stop selling baby seat with Apple iPad stand
48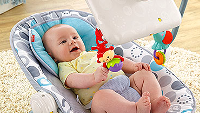 How young is too young to use an Apple iPad? Fisher Price apparently believes that even babies should be using Apple's iOS powered tablet. Why else would it manufacture a baby seat that comes with a stand for the iPad? Priced at $80, the product's name is "
Newborn-to-Toddler Apptivity Seat for iPad
." But if the the Campaign for a Commercial-Free Childhood has its way, the manufacturer will stop selling the product.
The organization has started a petition, calling the Apptivity Seat the worst screen product for babies. The CCFC notes that with a colorful screen and constant activity, the iPad can get a baby's full attention allowing the parents to leave it all alone with the tablet. If you want to add your name to the petition, all you need to do is to click the CCFC sourcelink below, fill in the blanks, and submit it. The petition is addressed to David Allmark, Executive Vice President of Fisher-Price, and requests that the company pull the seat. The CCFC stresses that it is wrong to leave a baby alone with an iPad, inches from his or her face. The screen is blocking the child from seeing his parents and the rest of the world. Part of the petition reads, "
Babies need laps, not apps. Fisher-Price should focus on developing products that actually facilitate learning and development instead of encouraging parents to strap down babies -- even those too young to sit up -- inches from a screen
."
In response, Fisher Price says that it is the target of a negative online campaign. There has been talk that Fisher Price is marketing the seat as an educational product, something that the manufacturer strongly denies. In addition, Fisher Price says that the seat does offer options to limit the viewing time of the tablet. As it turns out, the American Academy of Pediatrics agrees with the petition, saying that kids under 2 should not be using any electronic screens.
So far, the petition has 9916 signatures, just 84 short of the 10,000 goal. But even if the target numbers of signatures are reached, we wouldn't count on Fisher Price pulling the product anyway. By the way, parents buying the child seat get access to free apps for the iPad that are made specifically for the age group of those using the seat.
"Dear Mr. Allmark,

I am writing to urge you to stop selling the Fisher-Price Newborn-to-Toddler Apptivity™ Seat for iPad® device. It's troubling enough when companies promote screen time for babies – the American Academy of Pediatrics discourages any screen time for children under two. But this product is clearly designed to occupy infants alone and free parents up from interacting with them. Placing an iPad directly above baby's face blocks his or her view of the rest of the world. And to make matters even worse, Fisher-Price is marketing the Apptivity Seat -- and claiming it's educational -- for newborns.

Babies need laps, not apps. Fisher-Price should focus on developing products that actually facilitate learning and development instead of encouraging parents to strap down babies -- even those too young to sit up -- inches from a screen.

Please immediately recall the Fisher-Price Newborn-to-Toddler Apptivity™ Seat for iPad® device.

Sincerely,"-Petition
source: FisherPrice, LATimes,
CCFC
via
CNET